Diversity, Equity & Inclusion
March 29, 2022
EVENT: The Dixie 3 Virtual Film Screening (registration required)
UPDATE (5/4/22): EVENT CANCELLED
Due to very low registration numbers, this event has been cancelled. Film screening will be rescheduled to late June.
Details forthcoming.
———————————————————————————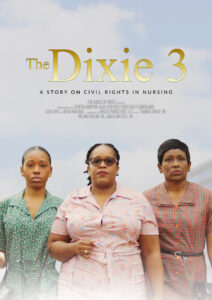 Join us Friday, May 6th from 1:00-2:30PM for a virtual screening of The Dixie 3: A Story on Civil Rights in Nursing during May's Diversity Committee Meeting.
Diversity Committee Meetings, which occur monthly, include a learning moment on a specific DEI topic. The learning moment for May will be a film screening and discussion.
In honor of Mary E. Mahoney's birthday on May 7th,  the Office of Diversity, Equity and Inclusion will host a virtual screening and discussion of The Dixie 3. This film is a docu-drama that explores the impact of structural racism on healthcare, and brings to light a civil rights case involving three nurses and their fight for justice. View trailer here: The Dixie 3 TRAILER
Run time: 25minutes.
Please note: We are only able to accommodate 150 viewers. You must register for the virtual screening using the link below: